Ooredoo Group announced its financial results for the second quarter of 2022, showing impressive growth in the first half of the year.
Revenues for H1 and Q2 2022 are valued at QAR 11 billion and QAR 5.5 billion respectively, surging by 4% and 3% year-on-year. Net profit has also displayed a double-digit growth in the latest quarter (37%) and mid-year (43%), hitting QAR 1.3 billion.
Moreover, the Group EBITDA for the period was QAR 4.5 billion, a YoY increase of 2% while the CAPEX decreased by 21%.
The success of Ooredoo's transformation strategy is also evident and proven through its improved free cash flow of QAR 3.6 billion, which increased by 10% during H1. Overall, the customer base is consolidated at 55 million, with Qatar operations being the most profitable.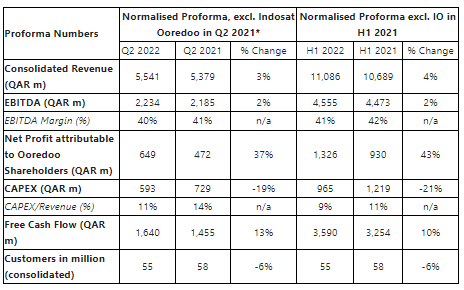 Source: Ooredoo
Commenting on the results, HE Sheikh Faisal Bin Thani Al Thani, Chairman of Ooredoo, said, "Our strategy to provide robust connectivity and superior customer experiences is clearly paying off. As we enter the second half of the year, we are more determined and ambitious to leverage the growing opportunities in the market to build a world-class data experience for our customers. Led by our digital transformation strategy, we are well positioned to see strong returns as we continue to be agile and adapt to the fast-changing nature of our markets."
Within the Middle East, the Group's impressive reputation secured its position as the official global connectivity services provider for the upcoming FIFA World Cup Qatar 2022. Ooredoo and BICS also agreed to create an innovative voice business model that will deliver innovative solutions in artificial intelligence, machine learning and fraud protection.
In its home market of Qatar, Ooredoo reported revenue of QAR 3.8 billion, an increase of 3%, and a customer base increase of 5% to 3.2 million. On the other hand, despite the increased competition in the market, Ooredoo Oman also delivered good results for H1 2022, with an improved customer base of 2.9 million, revenues of QAR 1.2 billion up by 2% and EBITDA raised by 5%.
Ooredoo Kuwait also reported a 13% increase in revenue to QAR 1.4 billion and an increase in EBITDA by 17%. Notably, it is the first telco in Kuwait to adopt IPv6. In addition, Asiacell also continued its strong performance with a revenue increase of 3%, recording QAR 1.7 billion and a customer base standing at 16.3 million, an increase of 13%.
Related: Ooredoo Group Regional CEO: The success of 2021 is just the beginning of a more successful journey