According to an umlaut report, Zain KSA has achieved the best 5G network and data performance in Riyadh. It has the strongest 5G coverage in Riyadh, with at least 27% more than its competitors, with Zain KSA users achieving the highest data stream download and upload speeds and shortest YouTube start time with excellent resolution.
This puts Zain KSA's efforts at the forefront of Saudi's ICT sector and global competitiveness. It is distinguished from the rest of the telecom and internet service providers (ISPs) in the 5G network, in addition to the advanced technologies and strong digital performance of the company. By enhancing its network with upgrades and investments in recent years, Zain KSA leads the telecommunications sector in the Kingdom.

Highest 5G data score and peak rates
umlaut benchmarked the typical user experience on the available 5G networks, with Zain KSA earning the highest 5G data score of 899 points, and 894 points in all technologies. With success rates of at least 98.8%, Zain KSA's 5G data service shows excellent reliability and performance.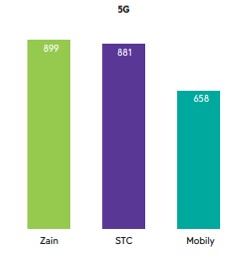 Caption: Overall data score for 5G


Following the wide-scale rollout of its 5G network, Zain KSA attains the highest 5G peak data rates and the strongest 5G coverage across the city with 89.5%. This advances its rank by at least 27% against other telcos, according to umlaut's data.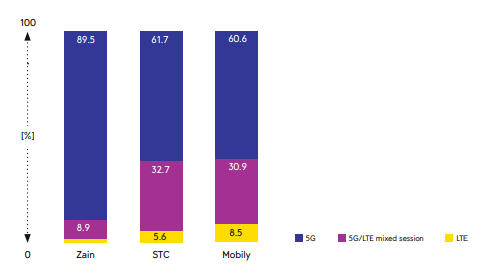 Caption: 5G coverage across Riyadh



When testing Zain KSA technologies' performance in data stream file download, it achieved a 99.4% success rate with the best session reliability all throughout. Its data stream file upload rate similarly registered an overall 99.2% for all generations. To be specific, Zain KSA possesses the highest download and upload speeds of 635.4 Mbps and 112.2 Mbps respectively.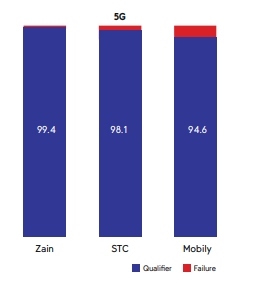 Caption: Datastream file upload percentage using 5G



With file download and upload speed rates being a significant part of the mobile user's experience, umlaut's tests reveal that Zain KSA has the shortest 5G session time for both 5Mb file download (0.9s) and 2.5Mb file upload (2s), demonstrating the company's capabilities in ensuring the shortest session time for music download and a seamless social media experience.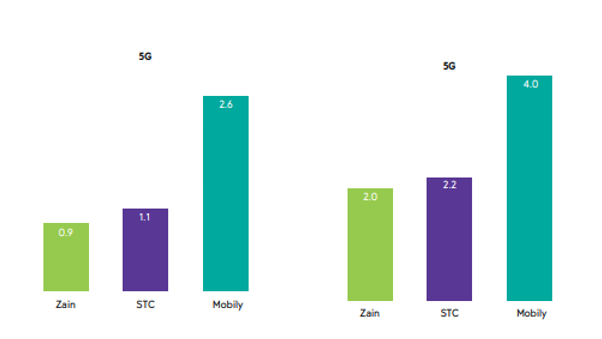 Caption: Session time of 2.5Mb file download (left) and upload (right)



In terms of YouTube's video start time and resolution, Zain KSA also achieved the fastest start time with a consistent 1.3s in tests carried over all technologies including 5G, while delivering an excellent 920p resolution.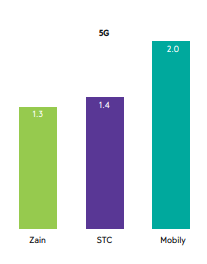 Caption: Tests for Youtube video start time



Generally speaking, the Kingdom of Saudi Arabia has already made huge strides in digitalization, with its capital jumping more than 18 ranks in the global Smart City Index 2020, outperforming highly-connected hubs including Tokyo, Paris, and Rome.