du, from Emirates Integrated Telecommunications Company (EITC), successfully concluded Envision, its inaugural exclusive tech event. Endorsed by the Ministry of Industry and Advanced Technology (MoIAT), the event held at Atlantis The Royal in Dubai focused on technological innovation and sustainable development.
Envision brought together renowned industry leaders and regional visionaries to discuss the latest trends in today's era and celebrate the power of partnerships, collaboration and commitment.
Under the theme of "Enabling Future Makers for a Sustainable World With Technology," Envision provided a platform for knowledge-sharing, collaboration and the exploration of cutting-edge solutions that will shape the sustainable future of the UAE.
du Showcasing Innovative Leadership
Welcoming the audience, Fahad Al Hassawi, CEO of du, highlighted the UAE's strong commitment to technological innovation by harnessing the power of partnerships and innovation. "du is at the forefront of this transformation. As a trusted technology partner, we [are] paving the way for a better future… ICT serves as a game-changing tool for companies to foster efficiency, connectivity and sustainability while driving positive impact on the environment and the society."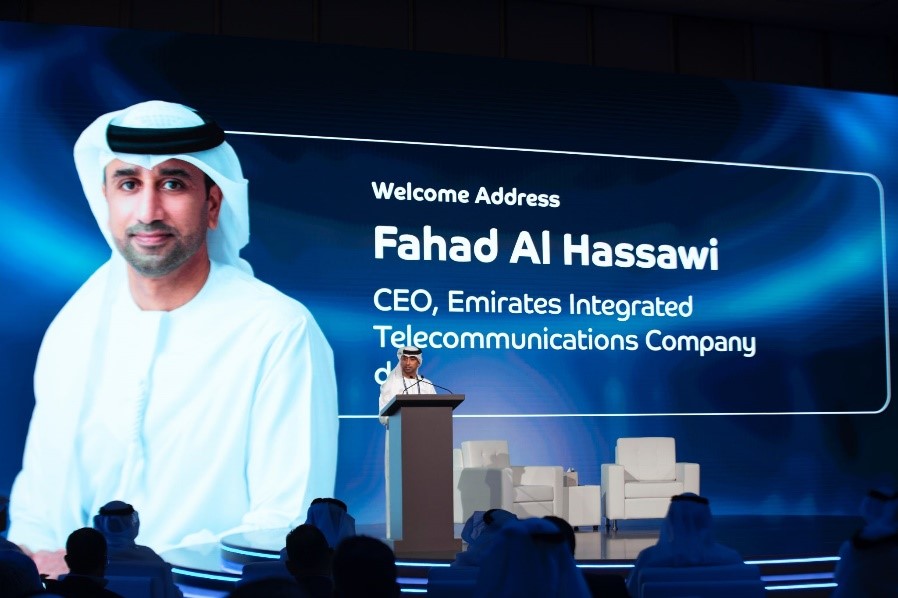 "du proudly embraces the call to transform the future with innovative technologies and solutions for a brighter tomorrow. Envision serves not only as an opportunity to interact but also as a medium for like-minded partners to come together, pool their resources and chart a new path for innovation. United in purpose and unwavering in our results, we have the confidence to redefine the role of ICT, set unparalleled benchmarks and drive business across the UAE," continued Al Hassawi.
In his accompanying speech, Jasim Al Awadi, chief ICT officer (acting), du explained how transformation is part of the company's culture, making them a digital telco player in the region and a digital transformation partner worldwide.
Today, du has 7.5 million subscribers and over 3,000 employees who bring different knowledge and skill sets to the market. It has a nationwide 5G network with 4.5 gigahertz of download speed on its five-year plan. du is currently covering almost 98% of the UAE population with 5G coverage.
Al Awadi also cited that the UAE will transform and be reimagined in 2023, aligned with purposeful innovation and collaboration for the Year of Sustainability. He underscored the four main pillars of Envision 2023, namely, smart manufacturing, agritech, smart cities and sustainability. These areas are critical to innovating and establishing opportunities that transform the lives of others using technology.
"We need to focus on the future, as focusing on the future will set and pave the road for us and take this nation to the next level of our digital ambitions… We need to be innovative, and to be innovative, there are certain things that we should execute as an organization, and it is in our [du's] DNA. We have cross-discipline collaboration, as we believe in bridging the gap between the private and the public sectors. Governance and regulation are important. That's why we are engaged heavily with the Ministry to put [in place] a lot of regulations when it comes to execution. And then we need to have a shared vision in order for us to reach the destination," the CICTO expounded.


Public Sector Participating in Tech Adoption
With support from MOIAT, H.E. Sarah Al Amiri, Minister of State for Public Education and Advanced Technology, delivered the opening keynote at the event. She underlined the important role of advanced technology adoption in transforming vital sectors and collaboration in the field to strengthen the UAE's position as an innovation hub. She stated: "This inaugural technology event reflects how du became one of the ministry's main strategic partners in transforming national industries, empowering SMEs in driving digitization and providing the UAE with the essential digital infrastructure it needs as a nation."
H.E. Al Amiri also highlighted the Industrial Technology Transformation Index (ITTI), a key pillar of MoIAT's Technology Transformation Program, which supports technological transformation across key sectors. The index aims to measure Industry 4.0 and sustainability readiness in the manufacturing sector to drive sustainable technologies.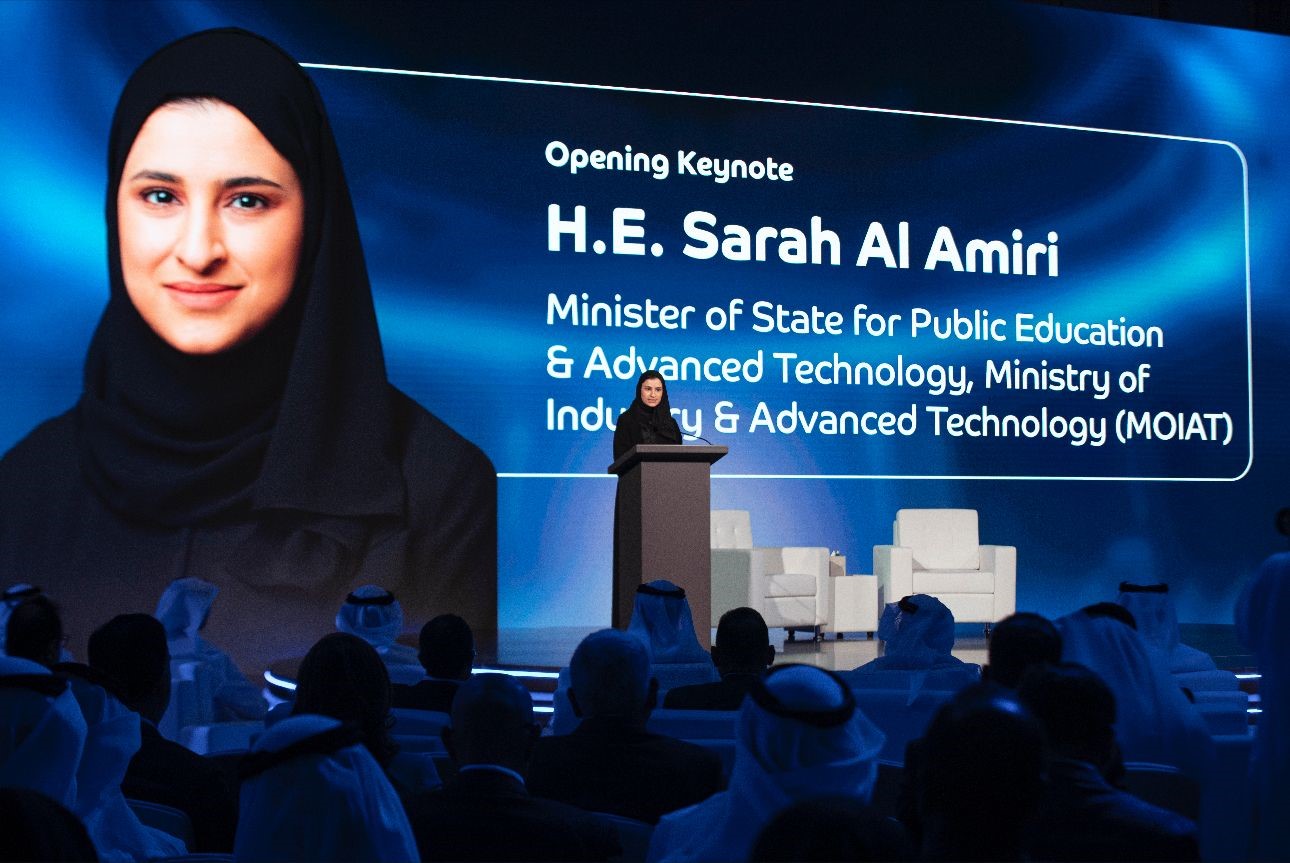 Her Excellency added: "Envision embodies our country's efforts to bring together stakeholders in pursuit of our national vision. Under the theme of 'Enabling Future Makers for a Better World,' Envision draws upon the UAE's collaborative ecosystem of technology pioneers and innovators in priority sectors".
In addition, H.E. Dr. Mohamed Hamad Al Kuwaiti, Head of the Cybersecurity Council for the UAE Government, also spoke about the future of cybersecurity, empowering Industry 4.0. He highlighted the five pillars that help them fulfill the national strategy for cybersecurity: to govern, to build, to protect and defend, to innovate and to partner.
"Cyberculture is important to us. Let's all work together in defending each other and really raise awareness... That's what we always aim at. We cannot do it ourselves; we need everybody's hand," advised H.E. Dr. Al Kuwaiti.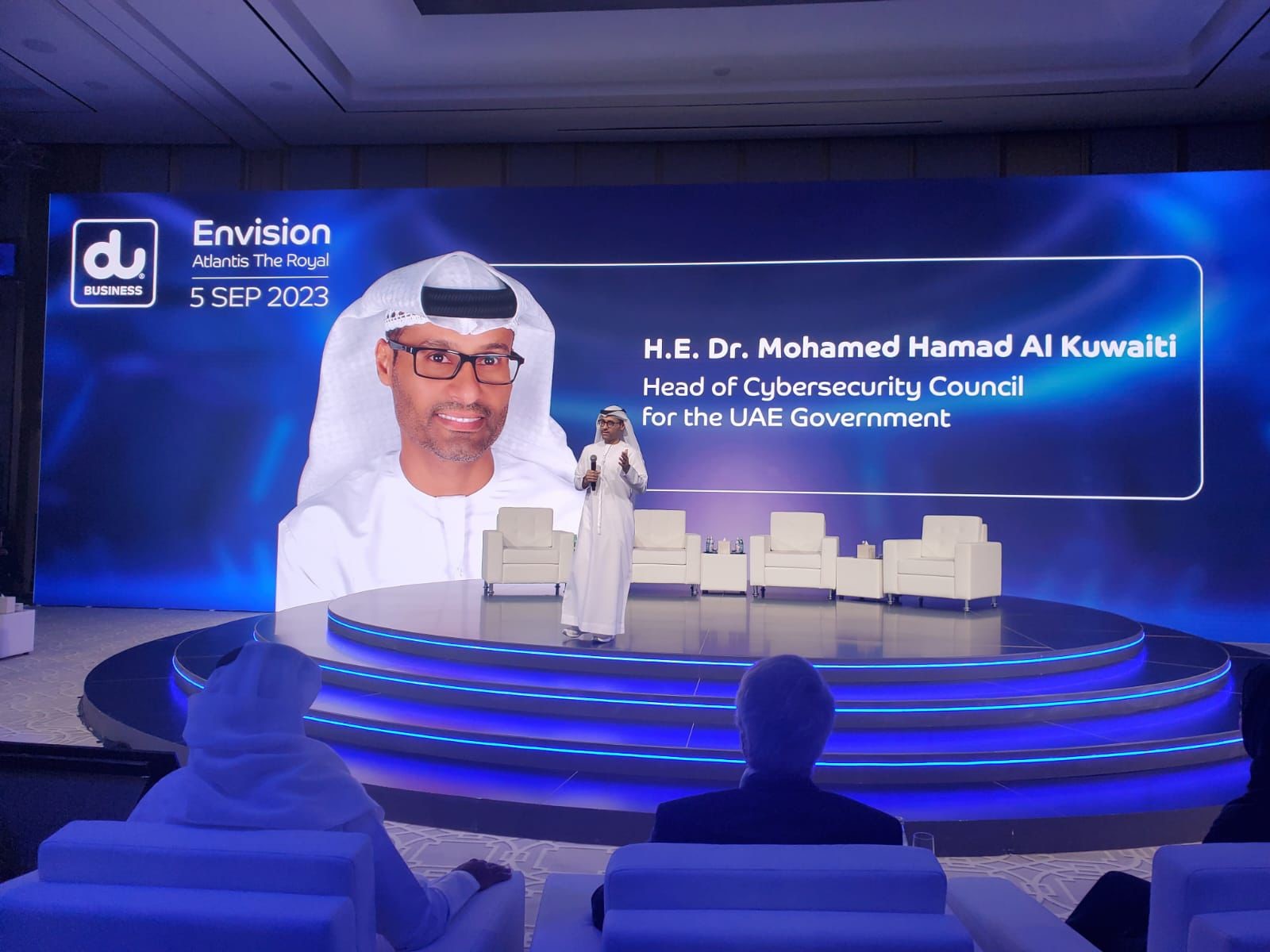 Technology Enabling a Sustainable World
Among the agenda highlights were insightful sessions delving into the potential of advanced technologies in smart manufacturing, intelligent cities, industrial transformation, artificial intelligence, sustainability, drones and robotics, and agritech.
Some of the points of discussion were Huawei's Tech4All initiative, which concerns conserving nature with technology, preserving biodiversity and managing natural resources sustainably. AI is also poised to help in resolving sustainability problems, which have become mainstream and a must-do globally. Moreover, the era of generative AI will make apps truly intelligent by: enabling natural language interaction; data-driven, personalized experiences that improve over time; and the quick delivery of new features. Metaverse opportunities, new network capabilities, accelerated digitalization and digital twins are also part of the industrial revolution powered by 5G networks.
Highlighting the impressive technological advancements made in the regional context, this exclusive ICT event showcased interactive presentations by prominent companies such as Zaintech, Huawei, Nokia, Dell, Fortinet, IBM and HPE. These presentations delved into the topic of digital transformation and its far-reaching effects on various industries.
The second partnership features du and the Hashgraph Association, harnessing the potential of the Hedera blockchain. This cooperative effort will offer secure, traceable and scalable solutions through a corporate blockchain platform, enabling efficient and sustainable applications across various sectors.
du's Envision event firmly emphasized that the future is characterized by a digital-first approach, hyperconnectivity, sustainability, data-driven decision-making, autonomy and AI integration. A promising future indeed.