By Naif Sheshah, Assistant Deputy Governor for Planning and Development and Chief Digital Officer at the Communications and Information Technology Commission (CITC)
In today's world, we are all concerned about the same thing: leaving our children a planet that is habitable, sustainable and prosperous. In a recent speech to global youth leaders, United Nations Secretary-General António Guterres said that what we need in order to achieve the Sustainable Development Goals (SDGs) by 2030 is "full and active engagement that mobilizes political ambition, action, solutions and solidarity."
As we stare down the barrel of the climate emergency, much of the vigor and dynamism necessary to create the solutions for a sustainable future will come from the youth – the digital natives. Our duty is to ensure that they have a functional ecosystem in which to innovate and take ownership.
Since the COP26 climate conference in Glasgow, governments are banking heavily on technological innovations to meet net-zero emission objectives. Digital technologies are central in allowing us to reach our Paris Agreement targets, which would require cutting global CO2 emissions by 48% in 2030. We, as CITC, are doing our utmost to develop the necessary regulatory framework that would enable us to achieve and surpass these goals, while setting an example to regulators around the globe.
The Saudi Arabian example
Under the leadership of His Royal Highness Crown Prince Mohammed bin Salman and the guidance of Vision 2030, we are pursuing a strategy to develop a future for our country that is based on sustainability, technology and a higher quality of life.
Some examples here are the ambitious, tech-driven giga-projects such as The Red Sea Project and NEOM, with its futuristic THE LINE, OXAGON and TROJENA regions. All of these are being built with net-zero credentials, strong digital infrastructure, renewable energy sources and novel waste management systems.
Saudi Arabia already has some of the most advanced digital infrastructure in the world. With average data consumption of 920MB per day (three times the global average), it ranks second among G20 countries for spectrum allocation, seventh globally for mobile internet speeds and fourth globally for 5G network deployment. It also has a higher proportion of women working in tech start-ups than in Europe (28% versus 17.5%).
The question is, how can this benefit sustainability? I believe the change in mindset has already taken place, and that a critical mass of citizens understands the need and urgency of green solutions. But how can the regulatory space match this demand?
Regulation as an enabler
As Saudi Arabia's digital regulator, CITC has embedded sustainability directly into its regulatory approach, as detailed in the Commission's first of its kind ICT sustainability report. This roadmap has been called "C.I.R.C.L.E.":
Cutting-Edge Infrastructure: For our society to thrive in the digital economy, we must maintain accessible, reliable, resilient and secure ICT infrastructure.
Innovation: Leveraging new technologies is key to advancing our SDG objectives.
Renewable Energy: The digital economic transformation must be built on green energy sources.
Circular Economy: We must promote circular economy principles among all players in the ICT sector and promote an active culture of properly dealing with e-waste.
Leading Cities: Whether new or old, the cities of Saudi Arabia must leverage ICT solutions to become green, smart and sustainable.
Equality and Inclusion: ICT is creating an environment where all members of society can participate in the digital economy and help achieve our SDGs.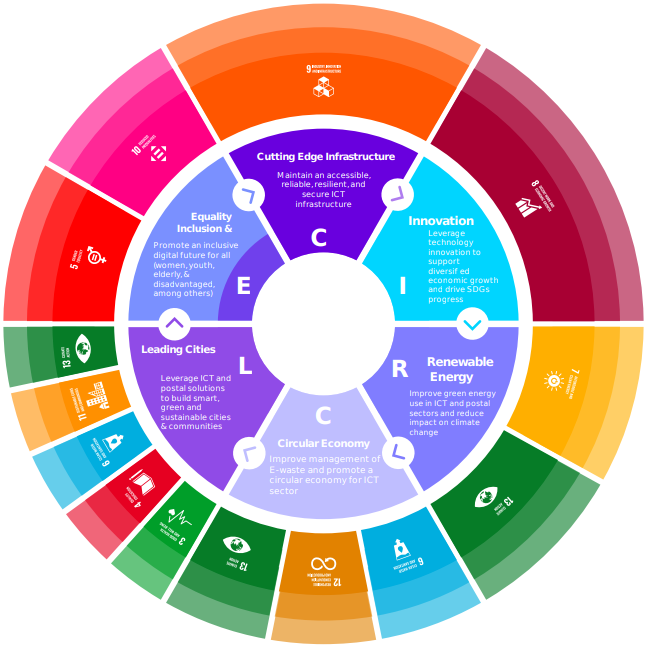 Source: ICT and Sustainability in Saudi Arabia, Annual Sustainability Report 2022
C.I.R.C.L.E., as a concept, was designed to entrench the SDG priorities in all of the Kingdom's technology spaces, and ultimately create a whole-of-society approach to net-zero, giving innovators the tools they need to create solutions.
Challenges, of course, remain in forging this digital future, however the Kingdom's powerful combination of top-down will and bottom-up talent is already creating a more inclusive, dynamic and innovative ecosystem that anticipates its citizens' needs and enables their aspirations. I encourage you to read CITC's inaugural ICT sustainability report, and explore the growing synthesis between regulation, society and sustainability.