In line with the UN Sustainable Development Goals (SDGS), the UN Broadband Commission for Sustainable Development has advocated the need for innovative financing mechanisms, impactful partnerships, bold decision-making and holistic approaches to capacity and content development to make the best use of broadband Internet.
Recently, in their spring annual session, more than 50 commissioners, comprising of government leaders, heads of international organizations and private companies, civil society and academia discussed how to leverage digital cooperation to build an inclusive post-COVID digital future for all.

The commissioners discussed multiple forms of digital disparity, including access to Internet, affordability, literacy, and the relative lack of content in local languages. In calling for digital solutions and services tailored to meet the needs of users, communities and businesses, they noted that digital access and skills are essential to bring people, communities, businesses and classrooms online, and to ensure that everyone can benefit equally from digital opportunities and services.

The commissioners also reviewed progress achieved by the Commission's current working groups on the 21st century financing models, digital learning, and epidemic management, and they proposed a new working group on digital health, virtual health and care.

The Broadband Commission for Sustainable Development was established in 2010 by ITU and UNESCO with the aim of boosting the importance of broadband on the international policy agenda and expanding broadband access in every country as key to accelerating progress towards national and international development targets. Led by President Paul Kagame of Rwanda and Carlos Slim Helù of Mexico, it is co-chaired by ITU's Secretary-General Houlin Zhao and UNESCO Director-General Audrey Azoulay. It comprises over 50 Commissioners who represent a cross-cutting group of top CEO and industry leaders, senior policymakers and government representatives, and experts from international agencies, academia and organizations concerned with development.

The Commission is recognized for the publication of the annual State of Broadband Report and more than 30 thematic research and advocacy reports addressing such topics as digital health, education, online safety and inclusion of vulnerable populations.

In their 2020 The State of Broadband: Tackling Digital Inequalities: A Decade for Action report, they have detailed their efforts in developing the broadband over the years.

In the section Meeting the 2025 Targets: Connectivity, Affordability, Access, Equality and Use, the board provides seven 2025 advocacy targets that showcase ambitious and aspirational goals and function as a policy and programmatic guide for national and international action.

Advocacy Target 1

Making broadband policy universal: The report states that by 2025, all countries should have a funded national broadband plan or strategy or include broadband in their universal access and service (UAS) definition. The report states that today, 174 countries worldwide have a broadband plan of some sort, with several countries in the process of adopting one. Ensuring that national broadband plans are designed to increase network availability, affordability, safety and broadband adoption requires plans that are multifaceted, incorporating many, if not all, of the recommendations that the Commission has been advocating since its inception.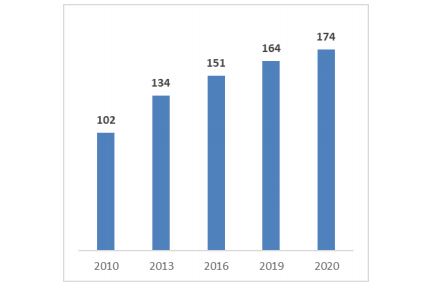 Growth in the number of countries with a national broadband plan
Advocacy Target 2

Making broadband affordable: By 2025, entry-level broadband services should be made affordable in developing countries at less than 2% of monthly Gross National Income (GNI) per capita.

The report states that in USD terms, in 2010, fixed monthly broadband subscriptions costs ranged from a regional low in Europe at USD 26 to highs in Africa at USD 176 and in Asia & Pacific at USD 198. By 2019, those prices dropped significantly from their base in 2010, and differences between regions have decreased as well.



Average cost of a fixed broadband monthly subscription by region, in USD
Advocacy Target 3

Getting people online: By 2025, broadband-Internet user penetration should reach: i) 75% worldwide; ii) 65% in developing countries; and iii) 35% in least developed countries.

The report points out that according to the latest ITU data, global Internet user penetration is currently at 53.6%. (Note: ITU tracks data on broadband as defined as more than 256 kbps.) Internet user penetration is 47% in developing countries, and in LDCs, Internet adoption is at 19.1%, well below the 35% target. The proportion of individuals using the Internet in LLDCs in 2019 was 25.9% and in SIDS it was 51.8%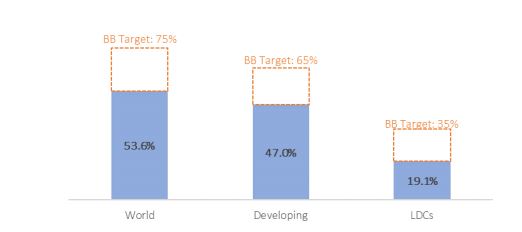 Global Internet user penetration, and by region, vs Commission target, 2019


Advocacy Target 4

Digital skills and literacy: By 2025, 60% of youth and adults should have achieved at least a minimum level of proficiency in sustainable digital skills.

The report states that despite broadband being affordable, other barriers, such as skills and literacy, continue to act as gating factors for non-users. For mobile Internet use, literacy and skills remain the most significant self-reported barrier across the world, accounting for 37% of responses in South Asia, 35% in East Asia, 34% in Africa and 28% in Latin America.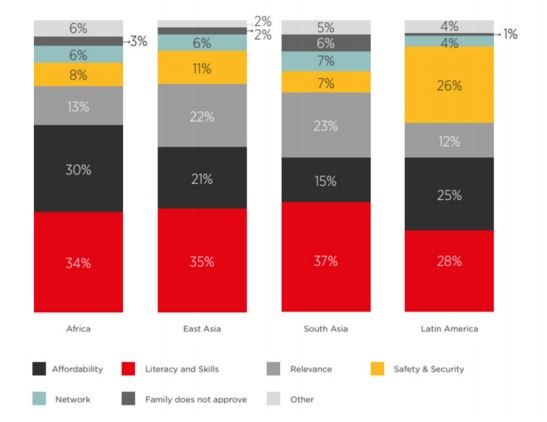 The top barriers to mobile Internet use in surveyed low- and middle income countries, by region
Advocacy Target 5

Digital financial services: By 2025, 40% of the world's population should be using digital financial services. The report states that digital financial services present a tremendous opportunity to swiftly increase the number of people using broadband and the Internet to realize the social and economic benefits of these digital resources, particularly for the billions of people without access to formal financial accounts.

The report points out that according to the World Bank's Global Findex database, the number of people worldwide who have utilized digital financial systems in the previous 12 months increased from 41% of the global population (above the age of 15) in 2014 to 52% in 2017 (with women representing 46% and men 54%).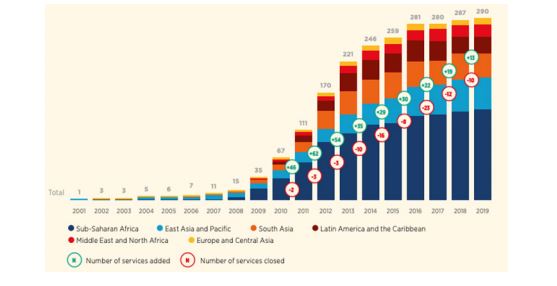 Evolution of global mobile money landscape, 2001 to 2019


Advocacy Target 6

Getting businesses online: By 2025, improve connectedness of Micro-, Small- and Mediumsized Enterprises (MSMEs) by 50%, by sector.

The report stresses that this target is particularly ambitious for MSMEs in those sectors that remain largely unconnected and incentivizes well-connected sectors to close the final gap. As an example, a sector in which MSMEs are 80% unconnected, should have only 40% unconnected by 2025. A sector in which MSMEs are 30% unconnected should have only 15% unconnected by 2025.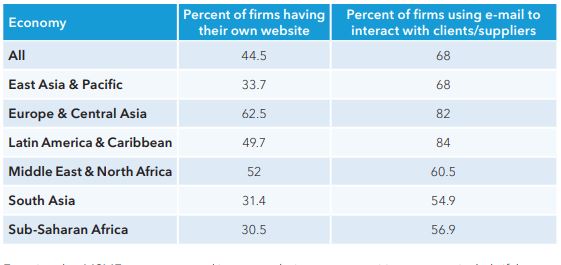 World Bank Enterprise Survey Data on enterprises with web sites and using e-mail (data by country, accessed May 2020)


Advocacy Target 7

Achieving gender equality in access to broadband by 2025: By 2025, gender equality should be achieved across all targets

The report states that the ITU data indicates that in almost two-thirds of countries worldwide, women are lagging behind men in the opportunity to take advantage of the power of digital technologies. Further, that gap has been growing in the world's major developing regions: Africa, the Arab States and Asia-Pacific.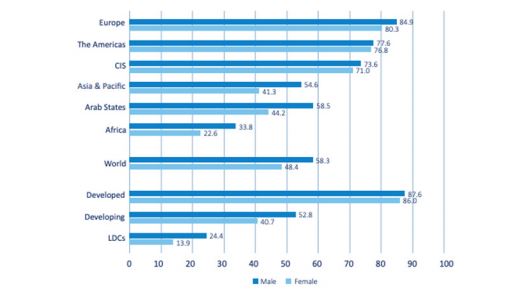 Internet penetration rate for men and women, 2019
Data collection challenges

The report sums up the section with the challenge of accurate and up-to-date data obstructing the  advocacy targets. The report says that many of the data series used for these targets come from national statistical agencies. The process of collecting data at these levels of granularity remains labour-intensive and costly. Data available for measuring progress against the targets from developed countries is more robust but remains a challenge from some developing countries. Other methodologies to collect similar, or proxy, datasets, and/or consider reporting on a semi-annual basis rather than annual warrants further discussion, the report states.