The Sultanate of Oman has established itself as one of the most progressive telecom sectors in the region in terms of liberalization and promotion of competition in recent years. A total of six mobile network operators cater to a population of approximately four million. The market leader is Omantel, part of Oman Telecommunications Company, in which the government owns a 70% stake. It is followed by the Omani Qatari Telecommunications Company known as Ooredoo. Awasr is the third fixed network operator in Oman. The newly announced telecom operator, anchored by Vodafone Group, will bring about an overhaul in the Sultanate's telecom sector when it begins operating in 2020.
The imminent arrival of Vodafone Group is set to have a transformative effect on the telecom industry in Oman. It will enable healthy competition between Omantel and Vodafone Group over who will be the first to rollout 5G services set to offer faster speed and a more reliable connection than ever before. The country will also see significant growth in B2B services such as internet of things (IoT), cybersecurity and smart cities. These services will not only benefit telecommunications service providers but also promises individuals greater access to the digital economy at a competitive price.

The mobile sector in Oman has become more and more competitive in recent years due to the market becoming saturated as well as the rise of mobile virtual network operators (MVNO). There are three MVNOs, all of which operate under the two former MNO. They are Friendi, part of Virgin Mobile Middle East and Africa; Renna, part of Oman's Majan Telecommunications; and, most recently, TeO, short for Integrated Telecommunications Oman.

In April 2016, the Telecommunications Regulatory Authority of the Sultanate of Oman (TRA) issued the Access and Interconnection Regulation (A&I). This decree states that the Omani market must be open to additional telecommunication licensees and resellers on the basis that its purpose is the development of investment within the sector. It encourages the creation of sustainable competition in the industry. Under this regulation, all telecommunication companies providing their services to the public in the Sultanate should provide A&I to physical infrastructure and other facilities to requesting parties.
The TRA presented Q1 2019 Report on the Indictors of the Telecom Sector of Oman.
Mobile telephone subscriptions
The total mobile telephone subscriptions increased this quarter by 1%, reaching 6,491,652 with a penetration rate of 141.07% per 100 inhabitants. The penetration rates are calculated based on the NCSI's latest approved population and household figures.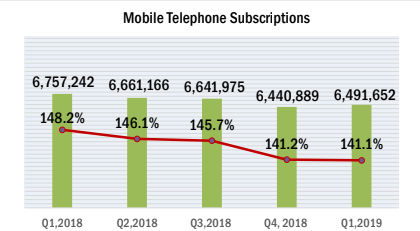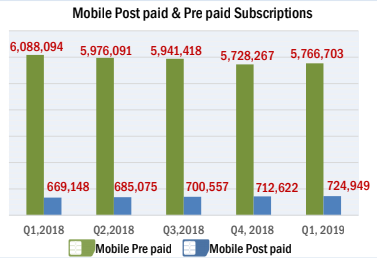 Source: TRA
Eighty-nine percent of the total mobile subscriptions are prepaid from both operators and resellers. Out of this, the two primary operators i.e., Omantel and Ooredoo Oman, represent 88.5%. Postpaid subscriptions established a 1.73% growth over the previous quarter while prepaid increased only by 0.67%. It is difficult to sustain customers within the prepaid segment due to the simplicity of shifting between operators. This is mainly due to the increased competition and the unique services offered by each provider. Operators and resellers are encouraged to provide attractive bundles with lesser penalties on breaking contracts.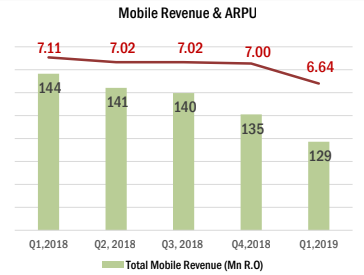 Source: TRA
Both usage and revenue of domestic mobile calls dropped by 12% and 4%, respectively. Accordingly, average domestic mobile usage per subscription decreased to 43 minutes, and average revenue per user/ subscription decreased to RO 6.64.
Stiff competition and regulatory changes continuously affect ARPUs. The average revenue per user (ARPU) is falling in many markets around the world. When ARPU is low, operators are forced to take appropriate measures to stay ahead of the pack in engaging with customers.
Mobile broadband subscriptions
Mobile broadband subscriptions increased in Q1, 2019, by 0.2% due to the increase in data-only subscriptions, reaching a total of 4,122, 532 with a penetration rate of 89.6% per inhabitant.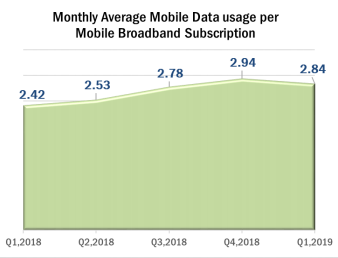 Source: TRA
Mobile broadband usage declined slightly, averaging at 2.84 GB per subscription compared to 2.94 GB last year. In comparison with Q4 2018, monthly average revenue and usage per subscription also experienced a minor growth in Q1 2019.
Fixed telephone subscriptions
Fixed Telephone subscriptions report a total of 572, 220, showing a growth of 2% over the previous quarter with a penetration rate of 92% per household. The significant increase was in VoIP subscriptions, which increased by 4.53%, representing 33% of the overall fixed telephone subscriptions.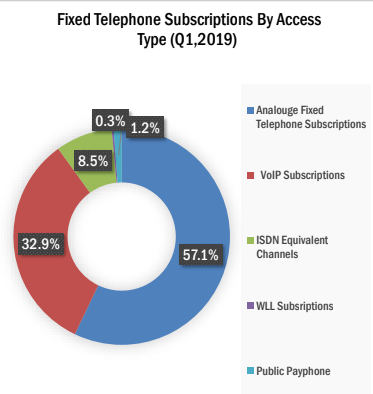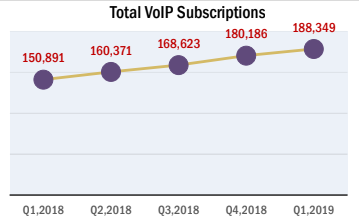 Source: TRA
To further cater to consumers' needs, the TRA also directed operators to ease the restrictions on VoIP software. This provision allows consumers to take advantage of cheap international calls. However, as a result, revenues have decreased further with the growing footprint of VoIP communications. Other gulf states such as the UAE are yet to allow VoIP services due to the adverse effect on ARPU. However, this denies accessibility to many people who are keen to use these services.
Fixed internet subscriptions
In line with a global trend, fixed narrowband subscriptions gradually declined, now representing only 1%. These represent networks with a limited speed of fewer than 256 kbits/s. On the other hand, fixed broadband subscriptions (FBS) represented 99% of the total fixed internet subscriptions. FBS experienced a growth of 4%, achieving a total number of 437,768 subscriptions. Fixed broadband penetration rate was 70.38%.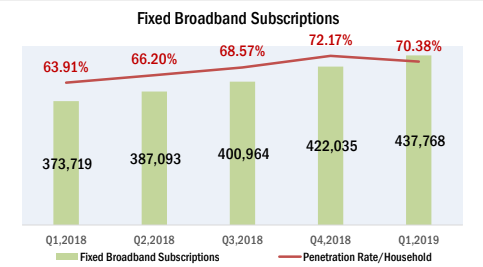 Source: TRA
There has also been a recent push towards improving fixed broadband infrastructure for Oman, particularly fiber-based networks. In addition to this, Oman Broadband Company (OBC) launched a National Broadband Strategy, which endeavors to have all homes and businesses connected to its national broadband infrastructure by 2040.
By the end of Q1 19, total fiber to the home (FTTH) lines deployed by OBC remained similar to the previous quarter. However, 7,349 new subscriptions added to the total FTTH subscriptions.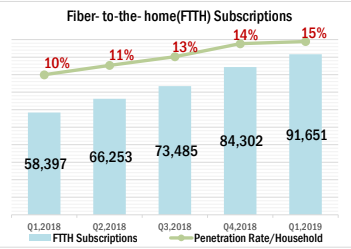 Source: TRA
The Sultanate remains behind its GCC counterparts in terms of internet usage penetration based on its population. However, broadband service is gaining momentum in Oman considering investments in fiber optics. With the introduction of 5G, data and internet usage is bound to grow exponentially.
Oman Tower Company (OTC) is a national company founded in 2018. Its primary function is to provide passive infrastructure to the wireless telecommunication service operators and government entities in an open-access manner. It plays a pivotal role in the telecommunications sector in Oman. OTC provides various infrastructure solutions such as greenfield towers, rooftops, in-building solutions and other innovative ideas for Industry 4.0. OTC is working to accommodate advancing technologies in the Sultanate, like 5G, IoT and smart cities.
Oman's telecoms companies will also be looking to boost revenue streams in the long term by further developing mobile data. The NCSI shows an 8% increase in Oman's population over the past four years and forecasts further growth of 2.4m by 2040. As a result of this upward trend, along with a potential increase in the short-term expat workforce and the introduction of 5G services, the main focus will be mobile data. There is much room for the data market to expand.
The sector has made significant progress in the liberalization process in line with the government's strategy. The Authority's policies and regulations aim to promote the interest of telecommunications services providers and beneficiaries. However, there are inequalities in the regulation of dominant and non-dominant operators (NDO), subjecting dominant operators to more stringent requirements. NDOs are obliged to negotiate and provide unregulated A&I services, and the primary duties in this respect are good faith and fair price. Dominant operators operate under stricter laws, along with providing the infrastructure to NDOs.
Permissive regulation of MVNOs in a saturated market is the government's effort to establish a more competitive environment in the mobile telecom sector. It ensures quality telecom services to the citizens of the country. Healthy competition encourages a better quality of service, increases accessibility, and therefore enhances the overall customer experience. Similarly, MVNOs have little to no capital expenditure pressures as they rely on conventional operators for their infrastructure. This leverage allows them to operate at a much lower rate than regular MNOs. Omantel has indicated that customer demographics have shifted to favor the MVNOs who target low-income customer groups – such as young people and expatriate workers.
Sector deregulation initiatives are a significant cause of concern for dominant operators. The extensive liberalization and leniency in regulating "resellers" in an already saturated sector are exerting tremendous pressure on MNOs. Complete reliance on traditional revenue, such as voice and messaging, is now becoming a historical reality. Therefore, a balanced and measured approach towards achieving long-term sector and economic development objectives that are suited to all parties is required.
In conclusion, Oman is well-positioned to be a technology hub in the Middle East. It will be interesting to see the introduction of Vodafone Group. With operators already witnessing a decline in their revenue growth, this will further accelerate the pressure on the market conditions. However, this offers a great deal of leverage to Oman's population, which is likely to experience an array of choices and attractive price packages.