By Ammar Hamdan, head of sales for MEA and the Indian subcontinent, Enea
Out with the old and in with the new? Not when it comes to 5G. Although mobile operators are rapidly deploying 5G standalone (SA) networks, they cannot sunset their 4G networks anytime soon because consumers and businesses still use LTE.  
The Middle East was home to 18 5G networks in February 2021, . Roughly 40 percent of the region's wireless connections still used LTE, according to the research firm OMDIA. It will take the better part of this decade to migrate most of them to 5G. Others will remain on 4G long past 2030, such as Internet of Things (IoT) devices designed to stay in service for 10-15 years. No wonder 4G is called long term evolution.
This 4G-5G coexistence creates a host of interworking challenges and considerations. And the greatest challenge is vendor lock-in. Most operators have a 4G core from a major vendor that makes it almost impossible to deploy a different 5G SA solution. Operators also will not find much help in 3GPP standards, which were late to define 4G-5G interworking.
So they face a tough choice: Either stay locked into their incumbent vendor for the foreseeable future or break free now, choose a neutral, open vendor and begin leveraging best-in-breed functions for 5G.
Tier 1 operators are best positioned to break free. They have large engineering staffs, so they're better able to handle the challenges and risks of switching vendors. Their size also gives them more muscle to force their incumbent vendors to cooperate. Even so, breaking free isn't easy for Tier 1s — and even less so for smaller operators.
Three major options
Subscriber data management shows just how daunting interworking can be. During the 5G core build out, intelligent interworking with existing systems must include subscriber data. Otherwise, operators can't provide seamless service delivery both within their own networks and when customers are roaming. 
In 3GPP Release 16, the home subscriber server (HSS) is replaced by unified data management (UDM). This change clarifies the core subscriber data management systems that must be reconciled for a successful network transformation. The process of breaking vendor lock-in applies to the HSS/UDM, as well as large parts of the core network due to dependencies on front-end modules and the unified data repository (UDR).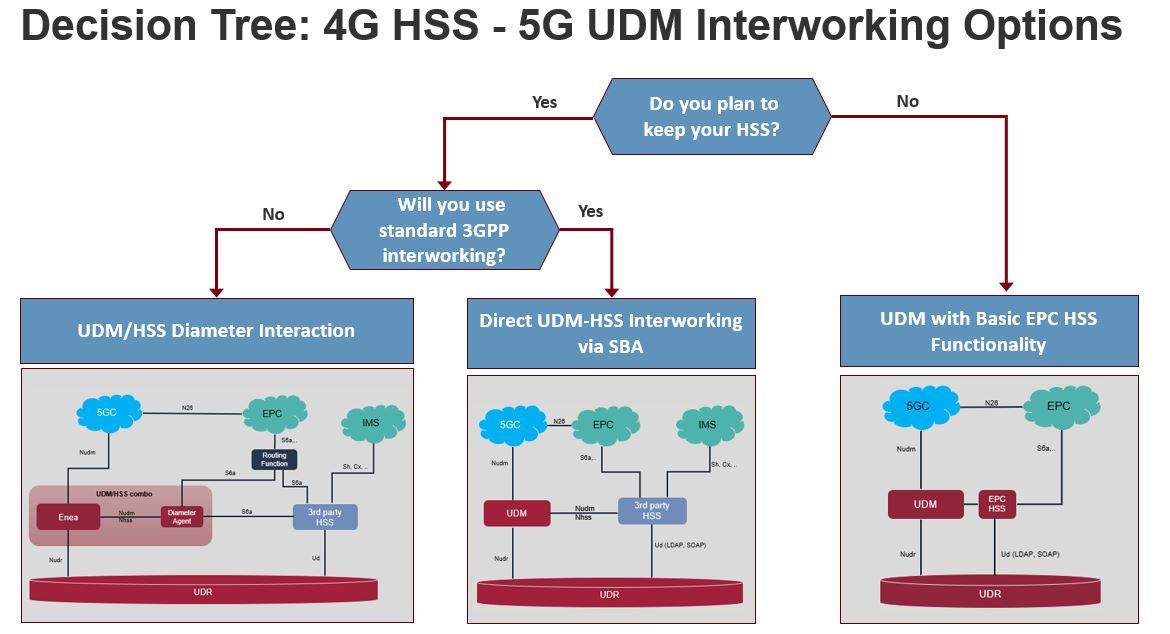 Cloud-native UDM technology provides a centralized way to control network user data designed specifically for 5G. There are three major options for enabling HSS-UDM interworking:
UDM-HSS interworking via a service-based architecture (SBA) requires changes to the legacy HSS but enables seamless interworking, including with 3G. It lets operators create a flexible new architecture by disaggregating legacy network elements. This is the best option for operators as it allows them to leverage the full potential of agile 5G architecture by managing various access technology networks with their own level of operations or administration. In other words, it helps them build a solution that evolves at its own pace while introducing disruptive edge services with shorter deployment time
UDM-HSS diameter interaction leaves the legacy HSS untouched. Instead, it uses diameter interfaces already available in the HSS, with the UDM acting as a gateway and sole access point to the 5G core and evolved packet core/IP multimedia subsystem (EPC/IMS). This option is a good fit for operators that want the benefits of a new 5G core and UDM, without changing the HSS.
UDM with basic EPC HSS functionality has the UDM support Nudm interfaces for 5G core procedures. It also introduces basic EPC HSS support with the S6a interface handling EPS procedures between the mobility management entity (MME) and HSS. This option is suitable for operators introducing 5G subscriber data without affecting or migrating legacy subscriber data already provisioned on a legacy HSS.
In a cloud-native 5G solution, applications must be allowed to be stateless and separated from the data processing. Separating application logic from data avoids both vendor lock-in and situations where large vendors maintain control over applications (and the network) by embedding data within their solution, often in a proprietary format. However, thanks to a cloud-native environment combined with REST API-based interfaces, it is now possible to separate data from applications by using an independent network data layer (NDL), including both the UDR and unstructured data storage function (UDSF) functionality.
Choose the right vendor partner
All of this is a lot to think about. That's why so many operators turn to Enea for help developing and executing a successful interworking strategy that eliminates vendor lock-in.
Enea is an independent vendor focused on openness. Although Enea provides both front ends and back ends for 5G, it supports interoperability with all major vendors. This philosophy means operators can choose what they want from Enea instead of the traditional vendor model of forcing customers to buy the whole package.
Enea's 5G product portfolio stores and manages data across all 5G core and edge functions, and supports multi-vendor 4G/5G interworking. Enea's cloud-native suite spans the NDL and scales the control plane with critical 3GPP functions including the UDR, UDSF, AUSF, PCF, EIR and the UDM.
Enea's UDM provides robust authentication for 4G/5G interworking to support all subscriber and device data. Along with full 3GPP compliance and implementation of the latest standards, Enea's UDM also provides:  
Support for 1 to 10 billion data entries at a rate of 1 to 500,000 transactions per second
Efficient scaling and handles demanding network sizes and use cases
Seamless interworking options for operators
Zero-touch operation using self-management features and standard management tools
An ultra-powerful rules engine to differentiate 5G offerings, including DevOps for faster integration
The UDM is cloud-based and thanks to this cloud-native environment, it can be combined with REST API-based interfaces to separate data from applications by using a NDL. The NDL enables a clear separation between the data layer, control plane and user plane, which creates unique flexibility. And it is this unprecedented level of agility that makes Enea's Stratum NDL solution essential for 4G/5G interworking.
It provides several key benefits:
It eliminates lock-in by collapsing all vendor data silos into one common NDL
Provides 100% ownership of schema and virtual schemas for application-specific data views
Delivers 4G and 5G interface support, with built-in protocol translation
Federates data to enable integration with external repositories faster
Shares data across network slices
Supplies 99.9999% availability in the cloud, with configurable redundancy, dynamic scaling and self-healing.
To learn more about how mobile operators in Europe, North America and elsewhere are partnering with Enea to break vendor lock-in, download "Data Management Interworking between 4G HSS and 5G UDM."