By An Jian, President of Carrier Networks Business Group, Huawei Middle East
In recent years, with the increasingly mature communication infrastructure networks of operators and rapid development of technologies, online education and teleworking are becoming more and more popular. Video teaching and conferences overcome time and space restrictions.
The home Wi-Fi network becomes a bottleneck for online education and teleworking experience

According to the statistics collected by an operator, 76% of the subscribers who subscribed to 200 Mbit/s packages cannot experience 200 Mbit/s bandwidth, and the actual bandwidth is less than 50 Mbit/s, resulting in a poor experience.
Data shows that 90% of poor experience issues in online education or teleworking, such as buffering, are caused by poor home Wi-Fi quality. Due to weak Wi-Fi coverage, multi-user preemption, and interference, the download speed is low, network latency is large, and packet loss rate is high, leading to poor E2E online education experience.
To make a simple analogy, the bandwidth is like a water pipe, and online course content is the water in the pipe. Even if your home is connected to a large data "pipe", your "tap" (Wi-Fi) is still a small-diameter tap, and the water outlet speed (download speed) will still be limited. This will impose greater impact on some large houses in the Middle East. In addition to high bandwidth, a good home Wi-Fi experience also contains low latency and packet loss rate.
According to industry research, the bandwidth, latency, and packet loss rate of home Wi-Fi networks must meet the following requirements. Let's assume that three children take online courses, and their parents work online or watch videos for fun at the same time, the home Wi-Fi network bandwidth must reach at least 200 Mbit/s.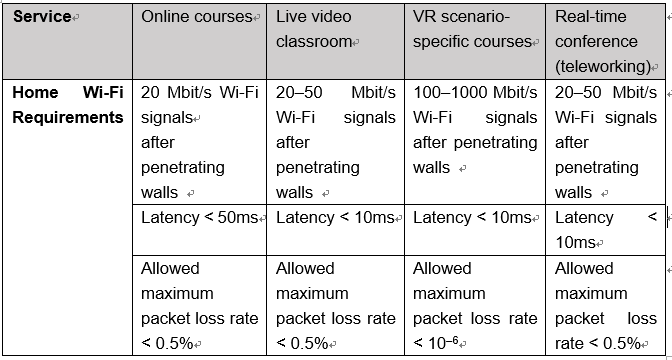 eAI-based PremiumWi-Fi guarantees ultimate experience in online education and teleworking
To provide a smooth experience for online education or teleworking, Huawei launched the eAI-based PremiumWi-Fi solution. Compared with the traditional home Wi-Fi solution, this solution has the following key capabilities:

eAI intelligent acceleration ensures smooth online education without buffering: The PremiumWi-Fi solution uses the world's first eAI-based online education acceleration function and the neural network eAI learning algorithm to provide dedicated assurance channels for online education and teleworking services, which reduces the E2E latency by 50% to 80% and the packet loss rate by 60% to 98%.
Mesh Wi-Fi achieves 200 Mbit/s Wi-Fi coverage for the entire house: With the strong Wi-Fi capability of the PremiumWi-Fi solution, Huawei provides home mesh Wi-Fi networking, enabling Wi-Fi signals to cover every corner of a room and improving the Wi-Fi bandwidth of the entire house by 30% to 50%. The 200 Mbit/s Wi-Fi bandwidth is available for all rooms.
Dual-channel technology assures a VIP experience: The unique dual-channel technology enables PremiumWi-Fi to implement dual-channel transmission isolation for Internet access and online education services. Even when a large amount of data is downloaded, PremiumWi-Fi can still provide an excellent online education or teleworking experience.
Intelligent O&M significantly improves user experience: Based on the iMaster NCE intelligent O&M platform, operators can learn about the online education or teleworking experience of subscribers from various dimensions without the need for an onsite survey. The remote diagnosis and optimization functions of iMaster NCE help operators continuously improve service experience in an efficient and intelligent way.
eAI-Based PremiumWi-Fi has been successfully put into commercial use in multiple markets

Huawei's PremiumWi-Fi solution has been successfully deployed in multiple markets, such as China, Saudi Arabia, Bahrain, Oman, and Thailand. In China, Huawei and VIPKID, a well-known online education institution, jointly released the White Paper on Online Education Home Wi-Fi Network Technology. Operators in multiple provinces launched education broadband packages, which were embraced by parents. In the Middle East, Huawei's PremiumWi-Fi solution provides all-room Wi-Fi coverage for large villas in multiple countries, helping operators significantly improve user experience. In Thailand, Huawei's eAI-based PremiumWi-Fi guarantees ultimate online gaming experience, helping operators monetize broadband experience based on latency for the first time.