Kuwait has been at the very center of technological developments and digitization being part of the GCC region, the fastest growing region within the Middle East and North Africa.
Like many countries, it has seen its telecommunications industry grow and evolve to an extent which the pioneers of the field would have never even dreamed of.

Various telecom and software development organizations have succeeded in marketing their offerings within the region through their partnerships and collaborations with both public and private enterprises which have contributed immensely to the overall telecoms sector. Foreign investment and intervention, along with government spending, have caused the country to adopt new technologies at such a rapid pace, resulting in their current position as a relatively mature market within the MENA region.  

This does not just apply to broadband, but it also to fiber optics along with 3G, 4G and more recently, 5G services.

The GCC region alone currently has around 200 telecom companies. In fact, Kuwait has one of the highest rates for mobile penetration and market saturation in the world.

Historically, like many of the GCC countries, Kuwait's economy was initially driven by oil which has in turn enabled them to generate strong revenues. This has enabled the country to provide high quality services in major sectors such as education, healthcare and housing.

In terms of Kuwait's telecoms sector, it was previously stated-controlled by a government monopoly which imposed tariffs and services. To improve services for their consumer and to reap the benefits of a more competitive market, other operators were introduced

The operators available in Kuwait are Zain (formerly MTC), VIVA and Ooredoo (formerly Wataniya), which have all extensively worked towards building 5G infrastructure, mobile broadband services and extensive LTE networks.

Zain

Zain is the first telecom operator in Kuwait and was founded in 1983 as MTC (Mobile Telecommunications Company), but was then officially privatized in 1999 and was eventually rebranded as Zain in 2007. Zain also operates in eight other countries in the MENA region, with a consumer base of 2.6 million by the end of 2018. Zain previously had 49.2 million users in all its markets which include Lebanon, Sudan, Jordan, Iraq, Kuwait, South Sudan, Saudi Arabia, Morocco and Bahrain in the first half of 2019.

For the first half of 2019, Zain Group achieved around 4 billion USD which accounted for a 28% year on year growth and consolidated EBITDA increased by 25%, reaching 1.7 billion USD. They offer 4.5G LTE network as of yet and was the first operator in 1994 to launch commercial GSM services in the whole of the MENA region.

In terms of its shareholders, 24.6% is owned by Kuwait's Investment Authority, 21.9% by Oman Telecommunications, 5.05% by Nohoudh Development Trading & Contracting Company and 48.45% by the public. The Kuwait market is Zain Group's flagship operation and generates the second highest revenue for the company (so far) at 25% of its total revenues, after Iraq which accounts for 26%.

Ooredoo

The telco previously known as Wataniya is a telecoms company in Kuwait which was initially launched in 1999. In 2007, Ooredoo acquired Wataniya for 3.8 billion USD. The operator offers mobile, broadband internet and corporate managed services.

Ooredoo also operates in other countries, with 138 million customers across 10 different countries by 2016. In Kuwait alone, however, the company has 2.5 million subscribers.

According to the company's results for the first quarter of 2019, it currently has 2.5 million customers, marking a 13% increase compared to its previous first quarter results in 2018. 

It also reported revenues of around 184 million USD and a 48% increase in EBITDA from its previous first quarter which reflected outstanding operational efficiencies within the company. Also, it was speculated that the increase in EBITDA was largely due to the reduction in handset sales and its improvements in costs and other efficiencies across the business.

Zain and Ooredoo faced a great deal of competition once VIVA entered the market with its promotions, reduced tariffs and customized packages.

VIVA

Kuwait Telecommunications Company (KSC) launched VIVA, the newest of the three telecom service providers, putting an end to the decade-long duopoly in the Kuwaiti market. The latest figures released in the second half of 2018 shows 2.2 million subscribers.

VIVA won the 'Best Network Development Award' at 5G MENA Awards in 2018 and in that same year was named 'Leading Corporate for Investor Relations in Kuwait' and the third in the MEA at MEIRA Awards. The telco was also winner of the Best Operator Network by Telecoms World Middle East in 2017 and '5G Innovator of the Year'. These are just a few of the company's many achievements within the region.

According the company's financial results from the first half of 2019, it recorded around 66 million USD in net profits, 460 million USD in revenues and a 3.1% growth in EBITDA which reached 63.5 million USD.

Its shareholders are STC (Saudi Telecommunications Company) with 26%, the Kuwaiti government with 24% and public shareholders with 50% of the shares.

The three companies overlap in several markets such as Saudi, Jordan, Bahrain, Iraq and Lebanon.

Regulator

CITRA, the Kuwait Telecoms Regulatory authority was first established in 2014 by the Council of Ministers Law no.37. The authority is responsible for regulating the telecoms sector through monitoring and protecting the interests of consumers and service providers within the country as well as regulating the telecom networks. They ensure transparency, fair competitive behavior and equality of opportunity for all.

CITRA has set the specified amount of bandwidth to be 3.5 GHz C-BAND for all operators in Kuwait that are planning a 5G rollout.

Kuwait telecoms market: A brief analysis

Kuwait's telecoms market enjoyed years of infrastructure capital expenditure which has in turn enabled new generation technology to be adopted constantly. It was previously reported by KAMCO that by 2016, customers of all three service providers were able to access 4G network across the country due to the vast distribution of telecom towers.

Despite the three service providers offering similar services to their customers, they all enjoy healthy profits and revenues as Kuwait is quite a mature market. All three operators have managed to adapt to all the next generational changes that have come their way in this increasingly connected society.

However, that said, the operators, like many worldwide, are facing some challenges when it comes to customer consumption patterns. Identifying emerging trends could be particularly difficult for those who are trying to sustain profitability and are constantly having to change their business models to correlate with consumption patterns that have been initiated by societal changes.

While mobile broadband and market saturation are quite high in Kuwait, the fixed broadband in the country is actually one of the lowest in the region. The government has tried to focus its efforts on building more extensive infrastructure which will in fact, make way for greater growth and revenue opportunities for the country. Not only that, but improving the fixed broadband infrastructure will enable both telcos and the government to reap the rewards that come with it which could include the growth of several industries such as e-commerce and the development of smart infrastructure which could contribute to smartening up Kuwait's cities.

The biggest buzzword in the industry at the moment is 5G and every telco is scrambling to get a piece of it and to ensure it gets the best deal. Kuwait has hopped onto the trend and all three of the country's operators have begun their journey into rolling out 5G in Kuwait. Kuwaiti operators are now beginning to create offerings based on the next generation network through providing packages and devices that accommodate to it.

Since Kuwait's mobile penetration is amongst the highest in the world, the operators have been working extensively to build LTE networks through the development of 5G and mobile broadband services. Throughout 2019, Kuwait has begun to formulate offerings based on the next generation network which has been evident through all the operators' offerings for 5G devices and service packages which shows healthy competition between the three operators.

VIVA set up a contract with Huawei for its 5G infrastructure. The company CTO, Engineer Zarrar Khan, stated, "Two months back, VIVA celebrated its 10th year anniversary. The growth we witnessed in the past represents an amazing success story. We provided best in class telco services to our customers, invested in last cutting-edge technologies and boosted Kuwait leadership in ICT era. Moving forward, we intend to position VIVA as the first operator in the world to deliver true 5G NR experience. With the planned nationwide coverage, our clients will have access to 5G networks and experience new services."

VIVA also set up a 5G innovation center, to which he commented, "The establishment of the 5G innovation center will help us drive digitalization across vertical sectors. Industries from telemedicine to smart cities to public safety will truly thrive with the support of 5G infrastructure. The networks will enable new revenue streams, enhance operational efficiency reduce costs, and ultimately, uplift the standard of living across Kuwait."

Zain already begun offering 5G internet bundles for its postpaid customers earlier last year in June and it was the first in the GCC region to do so.

Vice chairman and CEO of Zain, Bader Nasser Al Kharafi, stated, "5G will open the door to new applications that will transform consumer behavior and industries."

Ooredoo Kuwait has already launched 5G network with the help of Huawei.

Mijbil AlAyoub, senior director of corporate communications at Ooredoo Kuwait, stated, "Through this, we are exercising our role as a private sector entity in the New Kuwait Vision 2035, and we aspire to deliver comprehensive telecom services with international standards in the Kuwaiti market under one roof, which comes in tandem with our digital transformation strategy."

Also, Ooredoo Kuwait's GM and CEO, Sheikh Mohammed bin Abdullah Al Thani, stated that its launch of 5G services reflected the company's core values of caring, challenging, connecting and demonstrating its commitment to enrich the digital lives of Kuwait's people.

The introduction of 5G to the market brings about endless possibilities. The telecom industry is yet to find more use cases for 5G and as a result, future changes that could be generated by the next generation network are still uncertain. While we may have an idea of what the future looks like with 5G networks, we are yet to form a more complete picture of the benefits and challenges it could pose for any given economy.




Figure 1 Source: VIVA Kuwait Website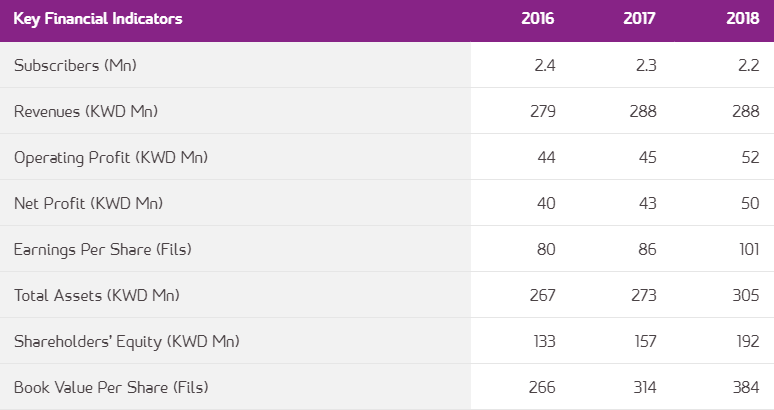 Figure 2 Source: VIVA Kuwait Website